Garza Galante Plastic Surgery
322 U.S. 41 #103
Schererville, IN 46375
Phone: (219) 322-3131
Mo–Fr: 8 a.m.–5 p.m.

Forehead Lift
A smooth, firm forehead free of lines and creases projects a youthful, relaxed quality. Because of genetics or the natural aging process, some men and women develop a heavy brow area that descends into the eyebrows making them look stern or tired. Dr. Rebecca Garza and Dr. Gus Galante perform forehead lift surgery, also called a brow lift, to help people from Munster, Crown Point, and other nearby communities look reinvigorated by tightening and smoothing skin and underlying muscles.
Unfurrow your brow with the help of one of our board-certified plastic surgeons. Request a consultation using the online form with either Dr. Garza or Dr. Galante or call our office at (800) 721-3244.
Brow Lift

Before & After Photos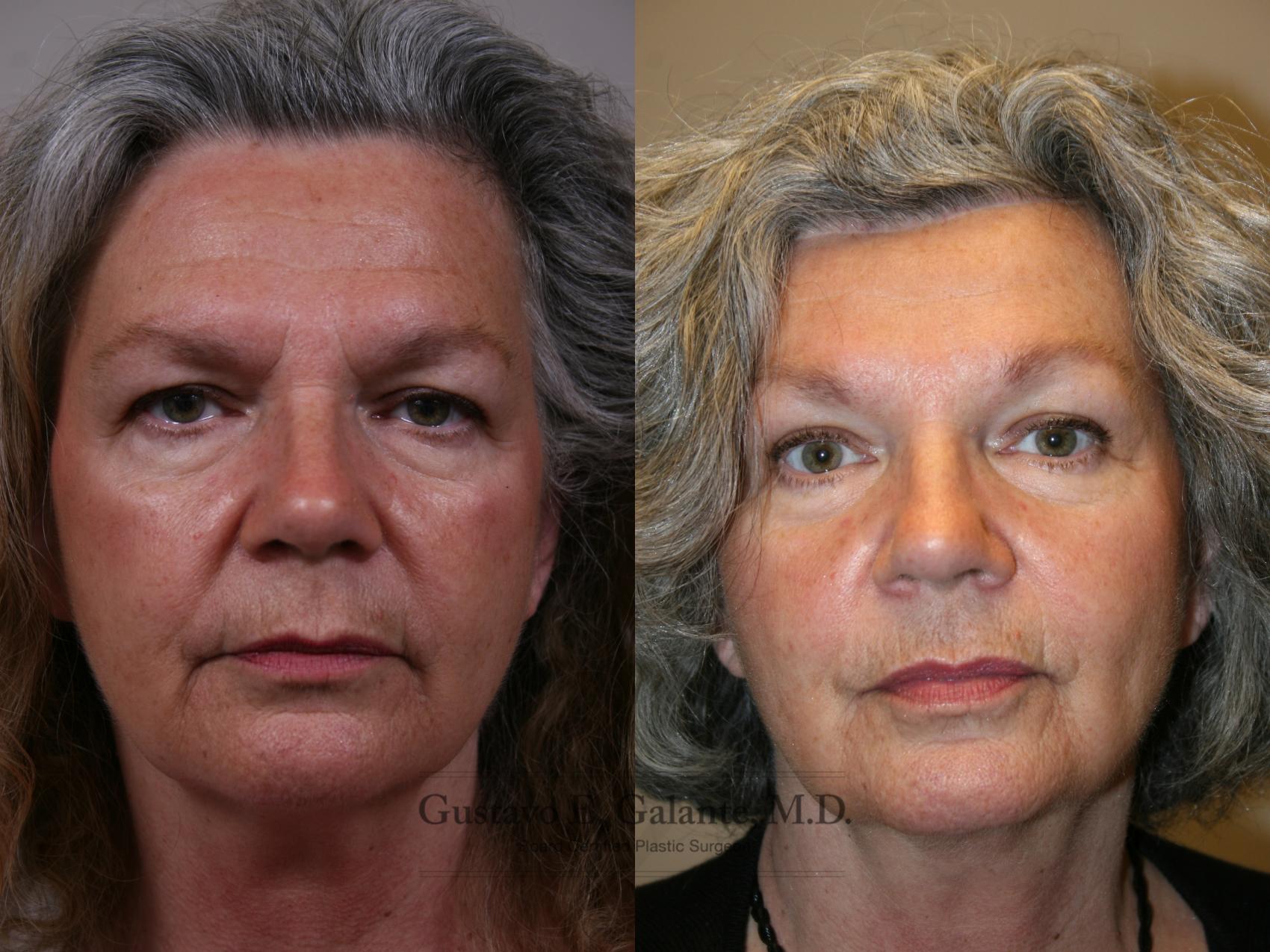 Before & After
Case #211
This 63 year old patient came to our office stating she looks mad all of the time. She complained of heavy eyelids. She was evaluated in our Indiana plastic surgery office where we noticed a very heavy brow with a sagging forehead. Quite often extra skin on the eyelids is due to a forehead that is drooping as in this case. She underwent a for...
Read More

Before & After
Keep in mind that each patient is unique and your results may vary.
Talking It Over
Either Dr. Garza or Dr. Galante begins your consultation with a complete medical history and an examination of your face, bone structure, and skin tone. Along with discussing risks and recovery, they will explain how to prepare for your procedure – including which medications, vitamins, and foods to avoid. You will receive detailed post-op instructions.
Procedure Specifics
Dr. Galante and Dr. Garza perform forehead lifts on an outpatient basis, meaning you can return home the same day. Depending on the extent of your surgery, you may receive general anesthesia or local anesthetic with mild sedation.
Both of our surgeons normally make incisions behind the hairline from ear to ear. They lift the forehead skin from the underlying tissue and trim away excess tissue before suturing the incisions. If necessary, they then bandage the incision site.
Welcome to Our Practice
Board-certified plastic surgeons Dr. Rebecca Garza and Dr. Gus Galante have established a plastic surgery practice dedicated to providing personalized care that gives you the confidence to make educated decisions about your surgery. Together with a hand-selected team of professionals who share our passion for patient care, we offer a range of surgical procedures designed to help you look and feel your best.
Impeccable Credentials
Both Dr. Garza and Dr. Galante are fellowship-trained plastic surgeons at the forefront of the aesthetic surgery field. They are each active in professional associations and have given back to the community by donating their time and services to local charity organizations.
Forehead Lift for Men
It is a common misconception that cosmetic surgery is only for women. Every year, more men are undergoing treatments and procedures to remedy their sagging brows and foreheads. A forehead lift can be a great option for men looking to restore youthfulness and self-confidence.
A man's brow and forehead are slightly different from a woman's, so they are treated a bit differently in surgery. For men, surgeons need to consider the long-term effects of the forehead lift. Generally, men's hairlines begin to recede as they age, so surgeons must be mindful of the incision placement. An experienced surgeon, such as Dr. Garza and Dr. Galante, is able to adjust the surgical plan to fit the unique needs of the male patient, for the most natural results.
More Information
A Reputation Built on Results
I recently saw Dr. Garza for a Botox treatment. She was very nice, and professional. I'm very happy...
I had a breast augmentation in March of 2020. I ended up getting capsular contracture in the right breast....
The most amazing doctor I have ever met. He truly cares about his patients. I got my second surgery...
After Your Forehead Lift Procedure
Most patients will experience varying degrees of discomfort and numbness immediately following their procedure. You will feel tired for the first few days. You'll need to avoid vigorous activities like exercise, jogging, heavy lifting, and sexual activity for a couple of weeks. You should also avoid the sun and excessive heat for about a month. You may experience itching and numbness at the incision site for several weeks. You can manage headaches and pain with the medication your surgeon prescribes.
Swelling will peak 72 hours after the procedure and may extend to your cheeks and eyes, but it will diminish completely after a couple of weeks. Keeping your head elevated for 3 to 4 days after the surgery will reduce initial swelling.
Brow lifts will not stop the aging process, but results usually last between 10 and 15 years. With a smoother, younger forehead, most patients feel more confident about their appearance and expression.
Frequently Asked Questions
Is a forehead lift or eyelid surgery better for me?
It's common for patients to feel that their brows or eyes are making them look older but to be unsure which treatment can help. In some cases, a drooping forehead can cause the eyes to look more aged, but sometimes excess eyelid skin is to blame. Some patients are good candidates for both treatments. Either Dr. Garza or Dr. Galante can help you understand which option is best for you.
Will my results look natural?
Yes. Dr. Galante and Dr. Garza are careful to raise the brows to a level that looks natural and youthful without putting too much tension on the skin. By customizing the procedure to meet each patient's needs, Dr. Galante and Dr. Garza avoid results that create an unnatural or surprised look. Their experience and conservative approach allow them to provide a subtle enhancement.
What is the cost of a forehead lift?
The cost varies depending on a number of factors, including whether other procedures are performed at the same time and the extensiveness of the treatment. We can provide you with a precise quote after we evaluate your needs. We offer our patients financing options to help them fit their cosmetic goals into their budgets.
The perfect gift for the beautiful person in your life.
Stop by our Schererville office to purchase your gift card of any value today!
Back to Top