Gustavo E. Galante, MD
322 U.S. 41 #103
Schererville, IN 46375
Phone: (219) 322-3131
Mo–Fr: 8 a.m.–5 p.m.
Please call our office for additional hours with our Aesthetic Nurse and our Esthetician.

Gustavo E. Galante, MD
3800 Saint Mary Drive #101
Valparaiso, IN 46383
Phone: (219) 299-9300
Th: 1:30 p.m.–5 p.m.
Please call our office for additional hours with our Aesthetic Nurse and our Esthetician.

Case #47
*Keep in mind that each patient is unique and your results may vary.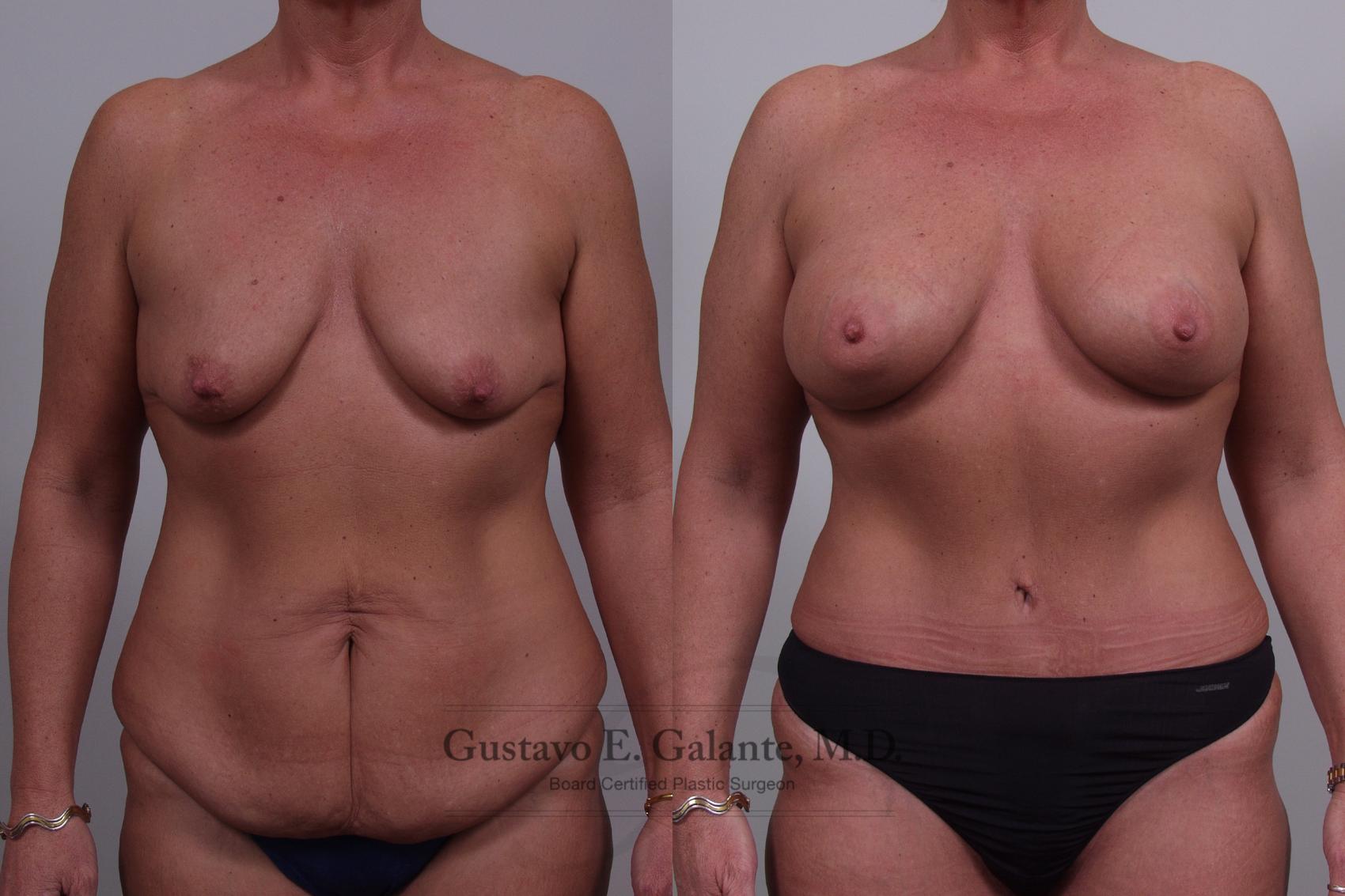 Before & After

The patient shown in these before-and-after photos came to see Dr. Galante, a board certified plastic surgeon with expertise in cosmetic breast surgery and body contouring, at his Northwest Indiana office. She initially was requesting treatment to improve the appearance of her abdomen but also had an interest in improving the sagginess in her breasts. She was a mother of two who exercised on a regular basis and was not happy with the way pregnancy changed her physique.
She had lost over 100 pounds over a 2-year period and was left with a deflated appearance and loss of volume to her breasts. Her abdomen was remarkable for a disproportionate amount of loose skin and a diastasis (separation) of the rectus muscles. This muscle alteration is a result of stretching out of the abdominal wall muscles and is seen frequently in women after childbirth and/or weight loss.
A breast augmentation for this degree of sagginess was the treatment of choice recommended by Dr. Galante. The breast implants would restore the lost volume to her breasts and fill out the loose skin without the need for a mastopexy (breast lift). Dr. Galante also recommended an abdominoplasty to address the concerns about her abdomen. The muscle would be repaired with internal sutures eliminating the bulge and tightening her waist, and the extra skin would be removed. The combination of these two procedures would enhance the aesthetic result desired from each procedure done separately.
She underwent breast enlargement and an abdominoplasty under general anesthesia. She stayed overnight in the Northwest Indiana hospital where Dr. Galante performs cosmetic surgery, but these procedures in combination can also be done as an outpatient. The breast implants used in this case were Mentor smooth, round, saline, moderate profile implants placed under the muscle and filled to 350cc. The photos illustrate her appearance before and six months after this cosmetic procedure. The combination of procedures gave her balance and harmony to her overall figure.
If you have an interest in either breast enlargement or abdominoplasty, a consultation can be scheduled with Dr. Galante at either of his Schererville or Valparaiso, Indiana plastic surgery offices.
Back to Top